Welcome in Hotel PARKAN a town BEROUN, Czech Prague hotel and accomodation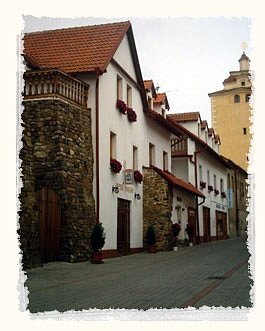 Thank you for visiting our website.  We would be glad to host your visit to the Czech Republic. We would like to introduce you to the amenities and opportunies we offer at Czech Hotel Parkan and will be delighted if you decide to spend your holiday with us.
Hotel Parkan was built in 1994 and is located in the historic center of the city of Beroun near by Prague. The City itself is a county center located in the middle part of the Czech Republic, surrounded by many places of interest and beautiful countryside.
Central Bohemia, as the central part of the Czech Republic is called, boasts the most interesting number of  historic cultural sites to include ruins of medieval castles, museums and other places of interest.
The city of Beroun provides you with fine facilities for your sport activities. Tennis courts, an aquapark, hiking and biking trails, a bowling hall and other indoor sports are available. After training you can relax with a therapeutic massage.
Our website also provides you with the latest on current events and places of interest in Prague, the capitol city of the Czech Republic.  We cover cultural events and traffic updates regarding the  Prague Public Transportation System.  We also provide information and recommendations for further trips within the Czech Republic.
We are also delighted to offer you our facilities and experience in hosting social events, presentations, seminars, workshops and family reunions.
Please visit our hotel and enjoy our promised hospitality.